Copywriting Examples #04:
How This Big Idea By Raymond Rubicam Boosted Steinway Profits by 1,616%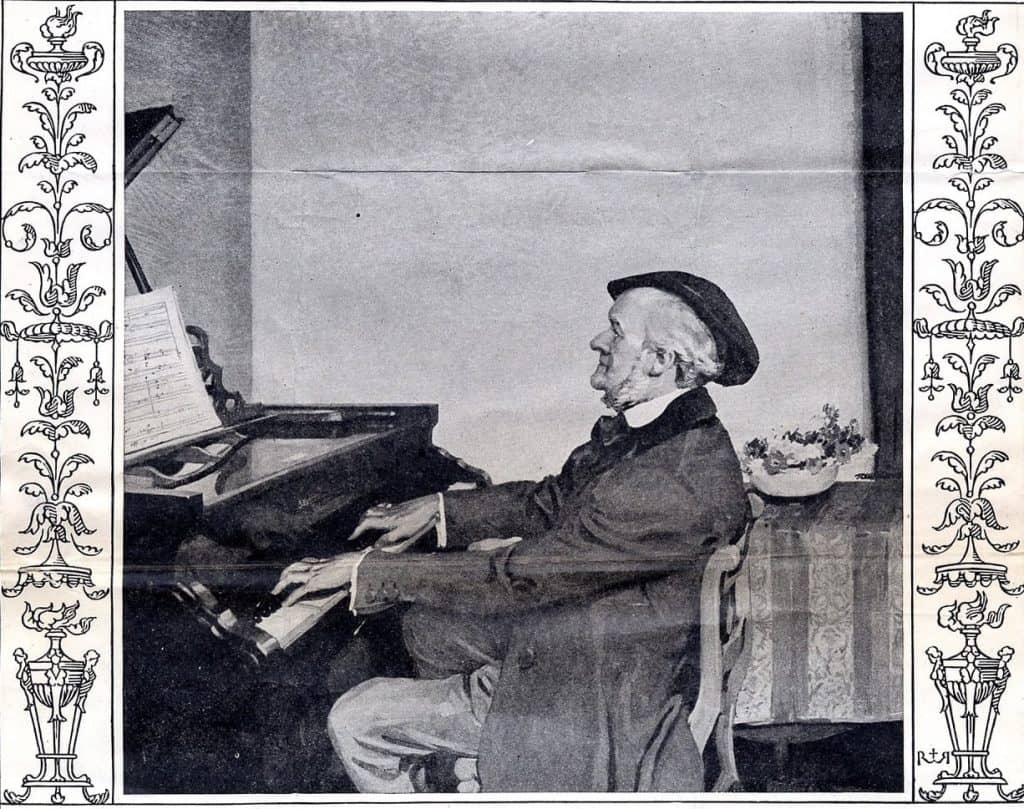 In this #03 issue, you're going to discover how a single "Big Idea" forever changed things for Steinway.
Today, there are millions of companies that would kill to have the dominance and brand loyalty that Steinway has over the piano market. 19 out of 20 professional pianists have actively sworn off every other piano in the market.
And Steinway owes this market position to an agency copywriter named Raymond Rubicam. Specifically, the 5 words he wrote over a hundred years ago, while working at the famous NW Ayer agency.
In this issue of Copywriting Examples, I'm going to share with you the prestigious history of Steinway leading up to this ad, how Rubicam came up with this Big Idea, the first ad he used it in and three things you can do to help you create Big Ideas of your own.
Henry E. Steinway and The Story of Steinway & Sons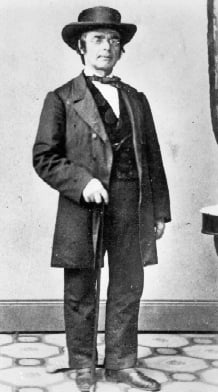 On February 5th 1797, a boy named Heinrich Engelhard Steinweg was born. Beyond that… well, it gets confusing. See, many legends and stories have popped up about Steinway's origins. All to add to the mystique and aura of the Steinway brand of pianos.
From what I can best piece together…
Steinweg was born in Germany. At some point, he became a carpenter and later an apprentice to an organ builder. This created a love of music in his heart. And he began to start building instruments.
He started with building guitars. Then tried making pianos. Then made bigger and bigger pianos over time.
In 1835, he made his first square piano and gave it to his wife as a wedding gift.
In 1836, he built his first grand piano. It's survived to this day and is on display at the New York Metropolitan Museum of Art.
In 1839, he won a gold medal at a state trade exhibition for his pianos.
Fast forward to 1850, he left Germany and moved to New York City. In New York City, he soon started a company to manufacture pianos.
With advice from his friends, he changed his name. Thus, Heinrich Engelhard Steinweg became Henry E. Steinway. And on 5th March 1853, he founded Steinway & Sons.
Henry Steinway's Legacy
Regardless of Henry's real origins, there is one thing that remains true: Steinway pianos are incredible works of art. These pianos have won countless medals and awards for their construction quality and sound.
Some time in the early 1900s, there was a local newspaper article that reads:
It is conceded that the Steinway Piano in make, tone, sweetness, precision, and durability, is the most perfect instrument of that class to be had anywhere in the world.
Steinway Pianos are so wonderfully made that many owners consider it the most precious thing they own.
Yet, the piano manufacturer's profits were going down.
So they hired an ad agency.
NW Ayer and Rubicam's Big Idea
The N. W. Ayer & Son agency appeared in Copywriting Examples Issue #01 as the agency that sold 425 million Camel cigarettes in one year. And in a rare blessing in this series, there is quite a bit of information about how this campaign was born.
When the agency landed the Steinway account, the team involved was:
Raymond Rubicam as the assigned copywriter.
Jerry Lauck as the assigned account executive.
Arthur Sullivan as the art director.
And Raymond was given a very clear task: write three full-page magazine ads. And do it in the same layout as previous Steinway ads.
After hours and hours of thinking, Raymond still couldn't come up with a theme. So he decided to take a look at the piano manufacturer's info file for any inspiration.
He later said:
I learned that the [pianos] had been used by practically all the greatest pianists and almost all of the great composers since Wagner. But when I found the [advertisements] in the proof book I discovered tha they consisted of lovely laides sitting at pianos in lovely drawing rooms and that the text [without headlines] told little of the great Steinway story. Without effort, the phrase formed in my mind, "The Instrument of the Immortals."

— Raymond Rubicam
Where "the immortals" are the famous pianists and composers who used Steinway pianos.
After he wrote it down, he looked at it. And it sounded good.
Too good.
So good that Raymond doubted himself and decided to call it a night. He put this note in a drawer and went on with other client work. A few days later, he opened his drawer and looked at it again.
It still sounded great.
He walked into the art department to speak to Art Director, Arthur Sullivan, about it. Hearing his idea, Arthur told Raymond that Steinway had a big vault.
A giant vault full of oil paintings of all the great artists who played on a Steinway. But… NW Ayer was forbidden from using the paintings in their ads.
A bit surprised by this, Raymond asked why. This painting collection wasn't private or sensitive information. Every Steinway customer gets a picture book of these paintings when they buy a Steinway piano. But still, they wasn't allowed to use them.
Raymond Got Creative
If he couldn't use the oil paintings, Raymond decided to get creative. He arranged for a model to dress up like a famous artist and then to take a photo of that.
Once he got his photo, he wrote out the ad I'm going to show you. And he took the finished ad to Jerry Lauck, Ayer's Account Executive on the Steinway account.
Raymond asked Jerry to convince the client to make this a campaign. And when Jerry went to the Steinway company, they agreed to use it… once.
Steinway: The Instrument of the Immortals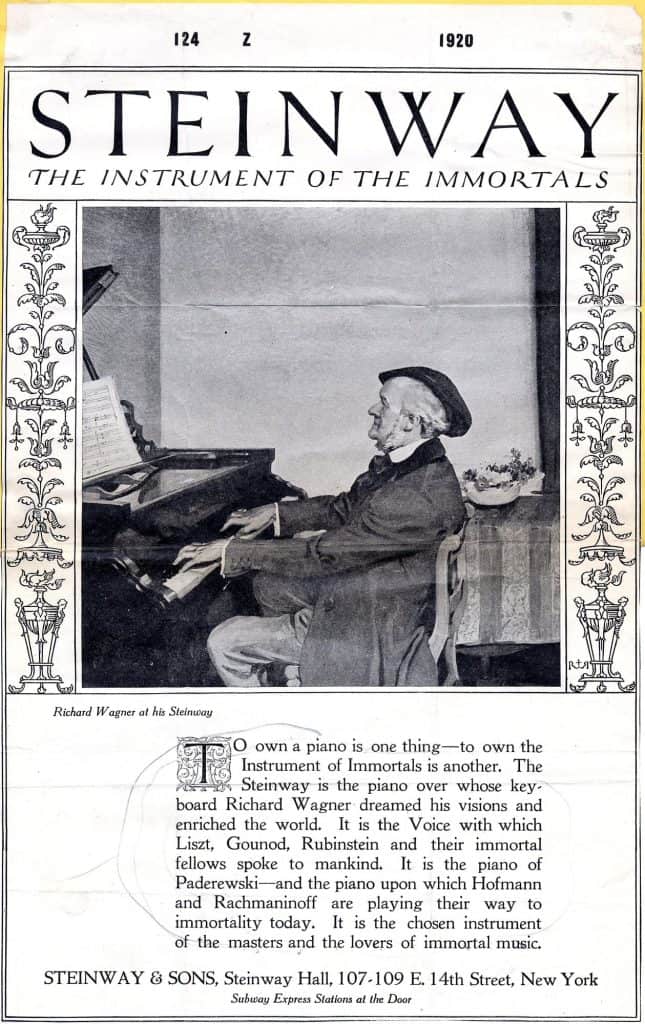 The Results
A few days after this ad began to run, Rubicam received a phone call and was told by Steinway:
… for the first time in 20 years of advertising [Steinway] had actually received a considerable number of voluntary and wholly favorable comments on an ad.

— Friedrich Reidemeister, CFO and Advertising Manager at Steinway
With the positive response, Steinway was happy to let NW Ayer use the oil piantings of pianists and composers. And they demanded that each ad use the phrase "The Instrument of the Immortals".
With this Big Idea happily approved by Steinway, every ad was written on this "The Instrument of the Immortals" theme. Each ad had a great pianist or composer.
And each ad implied that you could also experience the same prestige as these musical greats by owning a Steinway Piano. That no TRUE lover of music (like the Immortals that used it) would settle for anything less. And that there was nothing else out there like a Steinway Piano.
In 1920, the company had net profits under $100,000 ($1.2MM today). For the next 10 years of this campaign? Their best year was 1924 with a very tidy $1.5MM ($19.4MM today) net profit.
And over 100 years later, Steinway is still using "The Instrument of the Immortals" as their official slogan.
Key Takeaways – Copywriting Examples #04
If you've reached this far and enjoyed this, please spare a second to share this article on social media. Simply tap the widget on the left/bottom of your screen to share on your platform of choice.
These take 20-40 hours of work to write. You're reading it for free. Sharing it is also free, costs you nothing, and means the world to me. Thanks!
Study your product intimately. You can't come up with great ideas unless you have enough knowledge to draw from. And if you don't have the curiosity to gather that knowledge, you shouldn't be writing for that product.
Make associations. The success of Steinway's slogan comes from the connection to famous names that have used their pianos. Think about your product and list all the places, people, times, ideas, etc. that you could associate it with. Then test out the different connections you could make.
Step away from your work. Raymond Rubicam left the note in his drawer for days for a reason. As creatives, we are cursed by getting too attached to our own ideas. Sometimes, we're better off leaving something for a few days and coming back to it with fresh eyes.
---
Sources: