Freelance Copywriter NYC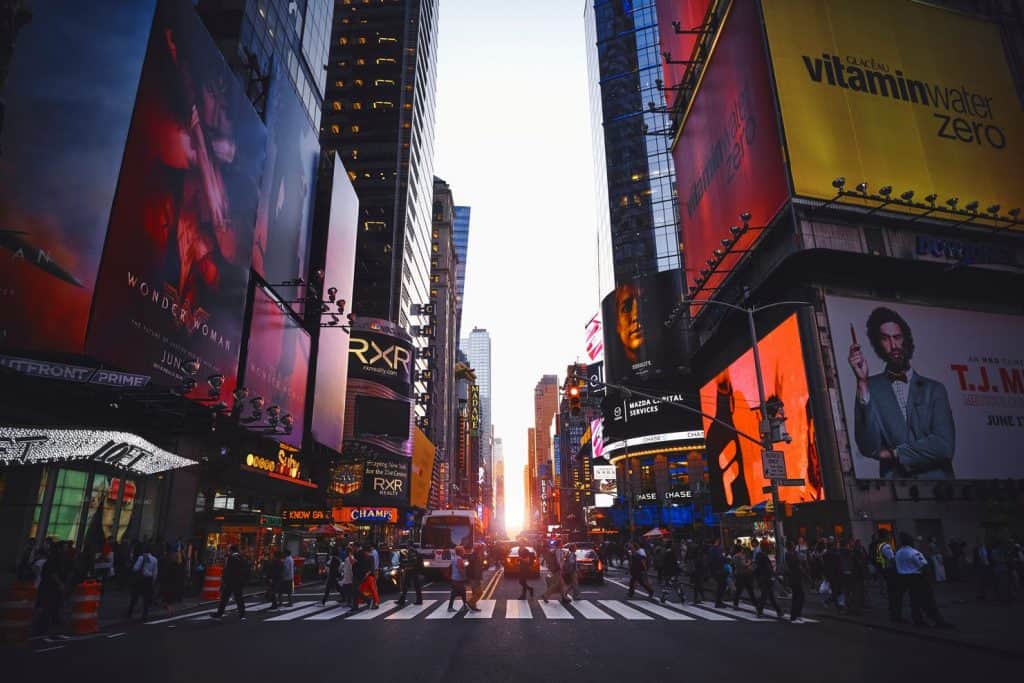 Have A Project In Mind?
With competition so high, copywriting has moved from a luxury to an absolute necessity. If you aren't using a copywriter, your competitors almost certainly are. And because every dollar a customer spends with them is one less dollar they spend with you, they are quite literally stealing money from your pockets.
If you're looking for a Freelance Copywriter in New York City, then you're on the right page. On this page, you'll discover answers to questions such as:
And at the end, I'll even include a few fun facts about copywriting and the history of the Big Apple.
Let's get started.
What Is Copywriting? What Does A Freelance Copywriter Do?
To start, let's define "copy."
Copy is the "written content" of an advertisement. So, if you've ever read a magazine ad, a Facebook ad or a Google ad, the words in that ad are called copy.
Copywriting is a style of writing that focuses on one thing: making someone take a specific action. For most businesses, that is making someone take action that leads to a sale. This can mean convincing people to:
Call the number on your brochure.
Visit a website listed on your direct mail package.
Open, read and click the link on your promotional emails.
Click the button on your Facebook ads.
Click the "Order Now" button on your sales page or video sales letter.
Opt-in for a free trial on your website.
A freelance copywriter is a professional writer who helps business owners that are too busy to write these marketing materials (or shouldn't be trusted with an empty Word document).
Because freelance copywriters work with many clients over their career, they often bring ideas and insights that business owners and in-house marketers & writers will never come up with on their own.
Why Hire A Freelance Copywriter? How Does A Freelance Copywriter Help My Business?
In simple terms, a copywriter makes numbers move up.
Think of the steps that it takes for a stranger to become a customer. Whatever the next step is, so long as you have the right audience, a copywriter can boost the number of people who take that step.
This means a freelance copywriter can help you with writing things such as:
Your Brochures
Your Direct Mail
Your Emails
Your Facebook Ads
Your Sales Pages
Your Video Sales Letters
Your Website
And so on.
Anything that is written words and you put in front of an audience in hopes they do something, a copywriter can help with.
And by hiring a professional copywriter, you can expect more people who read any of the above to take the action you want, including buying from you.
How Much Does It Cost To Hire A Copywriter?
This question is a bit like "How long is a piece of string?"
You can find copywriters that charge as much as $50,000 + commissions for a sales letter.
You can find copywriters that charge as little as 2 cents a word.
So, there is a lot of temptation to either go for the cheapest option (big mistake) or to just think more expensive is better (common mistake, too).
Treat hiring a copywriter like any other business investment. A good copywriter will make you money. And words written once can make you money over and over and over again. So you must be ready to invest accordingly, but not break your budget to do so.
A good rule of thumb is to have a budget of $1,000 to $5,000 to start.
How Do I Choose The Right Copywriter?
Picking the right copywriter isn't a light decision. You need to do your due diligence and make sure that there's a good fit.
Here's what to look for:
Past Experience
How long have they been writing?
How many businesses/clients have they served?
What kinds of results have they gotten for clients?
Generally speaking, you want someone with at least 2 years of writing experience, has served at least 10 or more clients, and has documented results they can share.
Reviews & Testimonials
What are other people saying about them? Who are these people?
Do these reviews mention anything about who they are as a person?
Now that you know that they have experience, it's time to learn a bit about other's experiences with the copywriter you're looking for.
You want to look for a reputable name or two, because bigger brands typically have much stricter guidelines and processes to follow.
And you want to also look at what they're saying about the copywriter as a person. Let's face it, you can have someone who is capable but requires a Tylenol budget for you to work with. Beware if you see testimonials with no character statements.
What Do I Need To Have Before Hiring A Copywriter?
You Need To Have A Product/Service/Business In Place
Yes, you read that right.
As basic as it seems, you'd be surprised how often I've been approached by clients wanting elaborate funnels for just a half-baked idea.
You Need To A Way To Bring In Eyeballs
The best ad in the world does nothing if it sits in your desk drawer. To get the most out of a copywriter, you need visibility. You need an audience of people to read those words. You need eyeballs.
And not just any eyeballs, you need the right ones. An audience of people who are a good fit for your product or service. You can have an audience of 10 million vegetarians, but you won't do so well trying to sell them steak.
This isn't something any copywriter can give you.
The most common sources of traffic (i.e. eyeballs) for many business owners is usually Facebook ads, followed by social media followings and email lists.
Where Can I Find A Freelance Copywriter In NYC?
Well, you're in luck!
If you're looking for an experienced copywriter you can trust, click the red button below and reach out to me today!
---
History of NYC
The city was named after the then Duke of York, James II, in 1664. The Duke of York is a title given usually to the second son of the royal family.
It also goes by many nicknames, such as "The Big Apple", "The City That Never Sleeps", "The City So Nice, They Named It Twice" and even "Gotham". And other variations of the name such as "New York", "NY" or "NYC".
The first recorded visit into the New York Harbor by a European happened in 1524. Explorer Giovanni da Verrazzano landed here and claimed the area for France.
NYC Weather
From the NYC Official Guide, the local climate ranges changes by season.
Spring brings budding flowers, light winds and rain, and temperatures that change from cool to very warm. Summer is bright, sunny and brings cool breezes in areas near the water. Fall is chilly and crisp, with citizens often wearing layers. Winters are cold and snowy, though the sky is often clear.
NYC Population
The city of New York is the most populated city in the United States (and of Tier 1 countries, only slightly surpassed by London in the UK). It has a bigger population than Los Angeles (2nd most populated city) and Chicago (3rd most populated city) put together.
As of 2019 estimates, it is home for 8.3 million people. And with an area of 300 square miles, it is also the most densely populated city in the country.
History of Copywriting & Advertising In New York City
The advertising and copywriting industry in New York started at the turn of the 20th century.
According to Advertising Week, great advertising milestones include:
1891 – George Batten opens what would later become BBDO.
1922 – The first-ever radio commercial aired on New York's WEAF station.
1941 – The first-ever legal television ad aired on New York's TV sets.
And in the 1920s, the advertising industry enjoyed explosive growth. And since many set up shop on Madison Avenue (a north-south avenue in Manhattan), the street became synonymous with America's advertising industry.
Top NYC Attractions
Statue of Liberty
Central Park
Rockefeller Center
Metropolitan Museum of Art
Broadway and the Theater District
Empire State Building
9/11 Memorial and Museum
High Line
Times Square
Brooklyn Bridge